FOALS OF 2001 39331 Rodeffer Rd. Lovettsville, VA 20180 phone/fax 540-822-9110



Silverwood's foal crop of 2001
FOALS OF 2009 |FOALS OF 2008 | FOALS OF 07 | FOALS OF 06 | FOALS OF 2005
FOALS OF 2004 | FOALS OF 2003 | FOALS OF 2002 | FOALS OF 2000



We have chosen a name with your help-Thank you!

Abstract
Dk bay & white pinto
7.8 Oldenburg N.A. colt
Born 5/17/01
Sold


Photos taken at 1-1/2 days old


Would you like to see more photos of this colt?
Click Here

We have chosen a name with your help-Thank you!

Seville
Bay & white pinto
PREMIUM Oldenburg GOV colt
born 4/2/01

Sold


Photo taken at 3 weeks old

Photo taken at 5 days old


Would you like to see a video clip of this colt trotting?
Click Here


Art Deco


Anastasia
Solid coal black filly born 4/28/01
Silver Premium RPSI
Sold


Photos taken at 8 hours old
FOALS OF 2009 |FOALS OF 2008 | FOALS OF 07 | FOALS OF 06 | FOALS OF 2005
FOALS OF 2004 | FOALS OF 2003 | FOALS OF 2002 | FOALS OF 2000
© 2001-2013 All images/materials on these pages are copyright protected and can not be used without written permission from Silverwood Farm, Lizard Graphics and or the various Photographers.
---
Last Updated:
01/20/13 06:38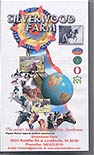 For further information, our video or brochures please E-mail Pintofoal@AOL.com
or use our convenient request form
E-Mail info request Form to: Silverwood Farm
Silverwood Farm: The worlds Finest collection of Pinto Sporthorse Stallions.
Standing at Stud: Art Deco, Hall of Fame, State of the Art and Spectrum.