Welcome to
Silverwood Farm's

Foal page

Email
For further information, videos or brochures please E-mail Pintofoal@AOL.com or use our convenient request form
E-Mail info request Form to: Silverwood Farm
If you'd like to receive our stallion packet immediately please call in your request at: (540) 822-9110, you will usually reach the answering machine, please leave your name, address (slowly, clearly and spelling last name, etc.)-where you would like us to send packet and phone number on answering machine and we will mail it right out. All phone requests get mailed immediately- Phone in requests do get precedents over online and email requests.

For your convenience we now accept Master Card and Visa. Please click on cards for our easy to use fax/phone form. Please do not send credit card info via email or this site, since it is NOT secure -Thank you.
Spectrum

Sadly we lost this foal,
still born 3/14. Large chestnut colt
blaze and socks. We are heart
broken to lose one so young and for
Fancy, she has always be a devoted,
kind and wonderful mother. We pray
the rest of our foaling season goes
better.

+

=

Fancy

Art Deco

Sold

+

=

Rose

Bay White colt born 3/31

Photos taken at 5 days

Spectrum

Sold

+

=

Lexus

Chestnut filly born 4/1

Photos taken at 4 days

State of the Art

Sold

+

=

Victoria

blk/white colt born 4/4

Photos taken at 3 days

Art Deco

Sold

+

=

Celebration

blk/white premium colt
born 5/8

Photos taken at 5 days

Art Deco

Sold

SOLD
Congratulations to
Jenny Knight, we are
so pleased that you
now have your
Art Deco filly.
She is a super one
and I can't wait till
you get to see her
in person, I think
you will be
very pleased.

More Photos coming soon

+

=

Eleanor

bay/white pinto premium
filly born 5/12

Apollon

Offered for sale, please visit sales page for more info

+

=

Fantasia
Black with mottled skin filly
born 5/28

Rhodes Scholar

Sadly we also lost this foal,
still born 5/4. Lovely elegant and
perfectly marked pinto filly. We are
once again heart broken to lose yet another
that was so young and for Water Colors, Leslie
and her husband (they own Water Colors)
Thank you Leslie and Dave for all your help
with Lilly, the baby and everything else.

+

=

Water Colors

Spectrum

Sold

+

=

Whickster
6/25/02 Lovely solid chest filly
with blaze.
FOALS OF 2009 |FOALS OF 2008 | FOALS OF 07 | FOALS OF 06 | FOALS OF 2005
FOALS OF 2004 | FOALS OF 2003 | FOALS OF 2001 | FOALS OF 2000

© 2001-2013 All images/materials on these pages are copyright protected and can not be used without written permission from Silverwood Farm, Lizard Graphics and or the various Photographers.
---
Last Updated:
01/20/13 06:38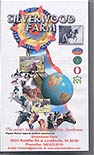 For further information, our video or brochures please E-mail Pintofoal@AOL.com
or use our convenient request form
E-Mail info request Form to: Silverwood Farm
Silverwood Farm: The worlds Finest collection of Pinto Sporthorse Stallions.
Standing at Stud: Art Deco, Hall of Fame, State of the Art and Spectrum.