DIRECTORY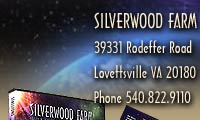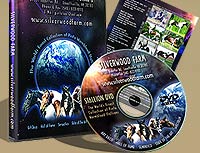 Click on DVD to order your stallion packet on line
For further information, a DVD or video which has all of our stallions on it please call 540-822-9110 (fastest service) or use our convenient request form: Packet request Form



For your convenience we accept Master Card Visa, AMEX, Discover and Paypal. Please click on cards for our easy to use fax/phone form. or you can pay securely on line, Please do not send credit card info via email - Thank you.
Copyright Info
SIM GAME players and others before you take photos or graphics from this site or email me please go visit this page:
SIM RULES
Silverwood Farm


Become a fan
on facebook Click Here
Lizard's Jewelry


Do you like handcrafted art jewelry? Click the necklace to visit Lizard's Jewelry site. Lizard's Jewelry is offering some horse jewelry now too!

elcome to Silverwood Farm's website, Silverwood has been for over 30 years dedicated to breeding world class Pinto Sporthorses & Warmbloods. We are honored to have been forerunners in this endeavor. We are slowly scaling back and heading towards retirement in the horse industry. We are so grateful for all of our wonderful clients and horses over the years. We still own our wonderful stallion Sempatico Who will be standing at stud this year at Birch Creek Farm. We are still dedicated to helping you breed or select an outstanding Pinto Sporthorse of your own. Please tour our farm and get to know us and our horses via our web site


Important announcement:

2018 has been a challenging year, we lost Hall of Fame to colic at the age of 29 and as some of you might be aware, Iíve been battling breast cancer. 2019 Iíll be having surgery and will be concentrating on beating this cancer, which I will do! But it will make it difficult for me to continue to serve our clients for breedings to Sempatico.

We are happy to announce our partnering with Birch Creek Farm in PA to handle the promotion and standing of Sempatico for the upcoming breeding season. Birch Creek Farm will offer collections 7 days a week and shipping Mondays through Fridays. Collections costs are $150 which includes a container, shipping is at cost with credit card or shipping account on file with Birch Creek Farm. Contact information is as follows:


Birch Creek Farm
248 Sherwood Drive
Waymart PA 18472
Phone 609-947-3457
Email: PAbirchcreek@gmail.com
This website is extensive and I have tried to include as much information as I can to make your visit enjoyable and informative. I've left quite a bit of older information up because we are proud of our history.
Silverwood Farm
39331 Rodeffer Rd
Lovettsville, VA 20180
Phone/fax 540-822-9110 Please call between 8:00AM & 8:30PM EST

For contact and map to Silverwood Farm click here