I was doing some breeding, but also wanted to focus it more towards sporthorses with color. At that time there were no warmblood pinto stallions in North American. I wasn't getting what I wanted with the solid stallions out there, because the high quality pinto broodmares pickings were slim. We need a Sporthorse stallion with color. I always had an eye for any ad that had the word pinto in it. I was going through the Chronicle of the Horse one day and saw an ad with about 12 Warmbloods listed-one was a pinto Dutch WB stallion, it was Art Deco, advertised by Knolle Farm owned by Ann and David Gribbions. Ann is a FEI level trainer/rider and dressage Judge. Ann had imported Art Deco and Metallic at the same time from Holland. I went up to see this "pinto" Warmblood-I didn't even know there was such a thing! The moment I saw him I knew that he was exactly what we where looking for. The vetting, scrambling for money and all the other wheels were set into motion to acquire him. All my horse friends thought we where nuts!, but I didn't care, I truly believed in what we where doing and I just loved the colorful sporthorses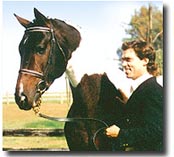 After Art Deco arrived here, I had to start the search for a trainer. I was in no way a qualified enough rider to promote a stallion, but while we searched I took lessons on him and just had fun hacking him. I ran an ad looking for a trainer (not mentioning that this young stallion was a pinto) the look on some of the interviewees faces when they saw the color was priceless! One of the people we interviewed was James Koford. Jim was an up and coming dressage rider, a "A" level pony clubber and quite a successful event rider. Some how out of shear dumb luck we picked the perfect person-James Koford. Jim trained and rode Art Deco for us over the next 8 years. They achieved impressive scores, championships, USDF awards, AHSA awards at every level including scores into the 70's% at the FEI levels and many High Score Championships at Grand Prix.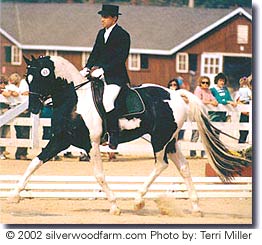 Art Deco and Jim Koford competing at Dressage at Devon
They qualified every year for Devon, AHSA championships and the BLM's. Jim believes in these horses the way that I do and that's why they were so successful (besides the fact that Jim is an excellent rider/trainer). Jim is currently in Southern Pines with his own very successful business of training, riding and teaching. He's competing at the FEI levels of dressage and eventing.
Art Deco at 24 is now retired from showing, but along the way he help many riders learn the ropes at the upper levels and also helped earn riders USDF accolades.

Art Deco was ridden at the FEI levels by Kathy Whitehouse. Kathy is an instructor/trainer from Leesburg VA. Art Deco just loves Kathy and I think the feeling is mutual. Kathy spoiled Art Deco just a tad (he got so many carrots from her that I'm surprised he didn't turned orange) but he deserves it.
James Houston has also worked as a trainer at Silverwood Farm. James has done wonderful work with all of our stallions and has been showing Spectrum very successfully at training and first level dressage. He has also shown Art Deco at the FEI levels.
Over the years I am proud to say that we have bred some really nice horses including two of our stallions, Hall of Fame and Spectrum. Hall of Fame & Spectrum are real momma's boys-very sweet. Hall of Fame is an outstanding mover and jumper. Hall of Fame has shown through 2nd level with scores into the 70's%, he's also been very successful in conformation/working hunters and jumpers. He was started by a good friend and rider/trainer Tiffany Hattler. Tiffany also started Spectrum under saddle. Tiffany still helps with our horses and is my assistant with breeding and collection work. She has her own horse operation; weatherleawarmbloods.com and stands an Art Deco stallion son Decoupage approved RPSI.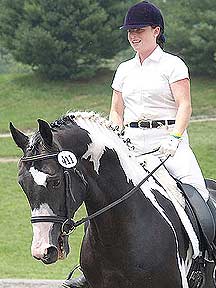 Our newest and youngest stallion "Sempatico" is currently being trained and ridden by Erin Freeman (photo left). Erin has been a successful FEI young rider and is currently showing her horse "Teddy" at FEI levels. She and Sempatico are making a wonderful team and we are excited by their future together.
I can't say that I'm surprised by the success of these horses, I always knew it was exactly what I wanted to do and believed that I wasn't the only crazy person who like an outstanding horse with the bonus of color. Over the years the offspring of these stallions are carrying on our dream of having everyone see spots before their eyes and then take a second look and see the quality of these horses.
Our breeders have been great and their efforts have produced offspring that are currently winning at dressage, hunters, jumpers, eventing and combined driving. We want to thank them for having the same crazy dream that we have.
Elizabeth Potter-Hall