Thank you all so much so many have been so helpful and we are truly grateful - The Hall Family
Links to newspaper reports: Loudoun Times after reading main article click on Storm stories (I'm interviewed) and photos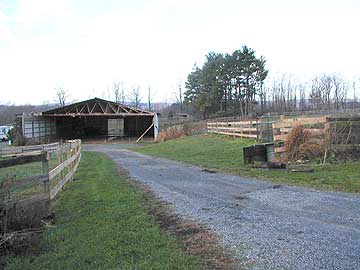 Tornado Journal
Above photo taken 11/30/04
As you can see from the photo above we are slowly but surely getting things back in order, most of this work has been done with the help of your kind donations and efforts! This photo was taken from about the same spot as the one on the left. We have gotten most of the fencing replaced, the totaled trailers moved and the debris cleaned up. Unfortunately as of today we still have not gotten one dime from our homeowner/farm insurance. Incase you have a policy with ACE I would highly suggest you think about using a different company--we are at 10 weeks now, with no help from them, unbelievable! The only insurance that has come through for us has been the auto insurance, they did pay for the two vehicles that where totaled; my dully truck and my mother-in-laws car. My husbands truck sustained some damage which was also covered.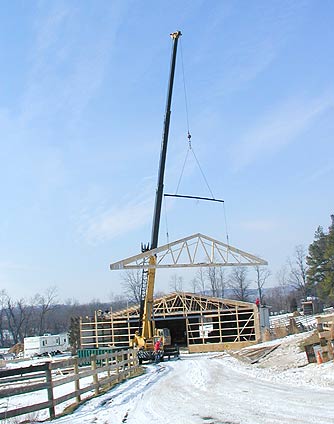 Rebuilding on the indoor arena barn has started!! 1/26/05
----------------------------------------
9/23 Update.
The going has been slow here, not due to the tremendous offers of help from friends and neighbors but from the lack response from our insurance company...as of this morning we still have not had an adjuster out here and we worry how much work & clean up to do until they see the place.
I really have to sing the praises of MORTON buildings, this company has been nothing less then wonderful in the 15+ years that we have had our Morton barn. They came right out and have put us on "priority" mode to get the farm up and running again ASAP. Yesterday their crew was here working their butts off with cleaning up the dangerous debris of the indoor. I am still amazed at how well my stable area of the indoor held up-it is hardly touched and thanks to the heavy duty construction of this barn all of my stallions survived one of natures fiercest forces. The tornado (yes it was definitely a tornado) they are estimating was an F3, not too much can withstand that and we took a direct hit.
------------------------------------------
9/28 Update.
The adjustor finally made it here on 9/23 in the afternoon after I call our insurance broker and went a little postal--it is bad enough having to go through this but then to be put on clean up hold and having to live amongst the mess was more then I could bear for another day. This past weekend we had a huge clean up party here, prompted, organized and spearheaded by Bridget Perry of Norsire Farm (thank you so much Bridget you have been so much help to us through out this ordeal) We had a wonderful crew of friends, neighbors, clients and strangers, whom are now friends, working like crazy to bring our place and lives back to some normalcy. They got so much done and worked so hard, thank you all so much there are just WAY to many people to name, but you all know who you are and that we are so grateful to all of you. We still have a long ways to go but with everyone's help this past weekend it now seems do able when before it was insurmountable.
We still know nothing from the insurance company about what they are going to give us...it's a waiting game now I guess.
I am finding it very difficult to keep up with a lot of the everyday things at this time, so if you have tried to contact me and I haven't gotten back with you yet please forgive me. Please know that again physically we and all the animals are fine, so please do not worry about that. About the worst things we are suffering from at the moment is scratches from clean up and poison ivy, Rosie (my mother in law) did get a bit banged up and bruised but she is recovering. I am also trying to keep up with thanking/getting back with everyone who has helped, made suggestions and offered with donations, please know we are so grateful and I will (if I haven't already) get in touch with you as soon as I can.
Now to top it all off we are suffering damage on to of the damage from flooding rains! Our roof and gutters to the house sustained damage and so did the chimneys, now we have water flooding in from various areas. Where the roofs are damaged or missing on our out buildings & barns--the footing and dirt is washing out! ugg and now more tornado warnings down south. The creek is now higher then I have ever seen it in the 20 years we have been here. and we are now losing more fencing!! We will be lake Silverwood in no time at this rate.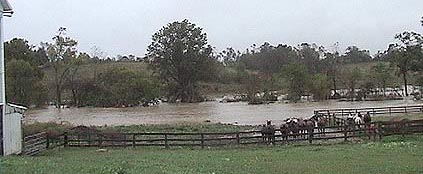 ----------------------------------------
10/19 update:
It's been over a month and things are very slow getting back in order, we are waiting on the insurance--still nothing from them so have not been able to start rebuilding the indoor. So far all the fixing has been out of pocket for us. I really feel sorry for the stallions, they are all a bit stir crazy since they have not been able to be turned out. Yesterday we got the big water gate in the mare field fixed (yippee) which was the final fix left in that field, so today I get to start to move the mares back to the big field. This weekend we are hosting a breeding seminar it will be interesting to see how that works with half of an indoor!
The auction has been slow getting off and running but is still very much in the works, so please keep those items coming and check back often to see when the bidding starts. We have had some very wonderful items donated everyone has been so generous and helpful!
--------------------------------------------
11/30 update
Its now been over 10 weeks and still not a dime from insurance. Frustrating is an understatement at this point. I feel the worst for the stallions who have been cooped up during all of this. We have been getting a lot done here, but it has been all out of pocket for us and this is a difficult time of year for such expenses. Last Monday we paid a visit to our insurance company and demanded to speak with the president, who of course is away until December 3rd. We did get to speak with our agent and the vice president and they promised to move things along. We have been promised that a check is getting overnighted since last Monday, but guess what; still no check and it's now a week later.
--------------------------------------------
12/3 update
We finally got part of our insurance payment, but unfortunately it looks like they are short changing us big time, so it's going to be a continued fight to get what is rightfully ours. The other bad news is I contacted Mortan right away after receiving the check, but their last order for materials for 2004 went out November 23rd. So thanks to the payment delay of our insurance company my barn can not be started until after January 1st--weather permitting. So it looks like I will be indoor arenaless through the winter.
----------------------------------------------
3/26 update
The Mortan barn reconstruction is complete! and slowly but surely we are getting other things back in order. We still have the footing/flooring in the indoor to be replaced, which is in the works and the lighting replaced repaired. We can use the far end of the indoor arena now (thank goodness since that is where we collect the boys) We are almost back to being able to use all of our paddocks (3 are still in bad shape) I hope to get those straighten out before all the foals arrive. I think things will start looking a lot better with spring and leaves/growth around the place and boy are we anxious for it to arrive!